I agree, a Jeep Wrangler is certainly not for everyone; however, we have a 2003, bought new and towed about 40,000 miles - 25,000 behind the PC. We live in the Sierra Nevada in northern California and have access to great off road trails. I have a car lift in my garage and have modified the Jeep for better off road use (an ongoing project), but not too extreme so that it still tows great and drives the highways reasonably comfortably - a compromise. We go to Moab a lot and do some great off road trips in that area as well as search out 4x4 trails wherever we go. That is part of the fun of RVing for us, and we are 66 years old.
Having said that, the Wrangler is not the most comfortable for normal highway use and the backseat is really for kids only. We don't even have the back seat in when we travel, more room for gear and we take a lot of recovery gear with us when we take off on the 4x4 trails by ourselves. No, we can't take another couple with us, but we don't travel with anyone else and we prefer to do our own thing. We put the backseat in when the grandkids visit at home, they love going "Jeepin" in the Sierra Nevada.
So, for us the Wrangler is the best option, comfortable enough for us on the highway and easy to get around town, but still lets us explore the back country and very easy to tow.
Bob
Imogene Pass between Ouray and Telluride, CO.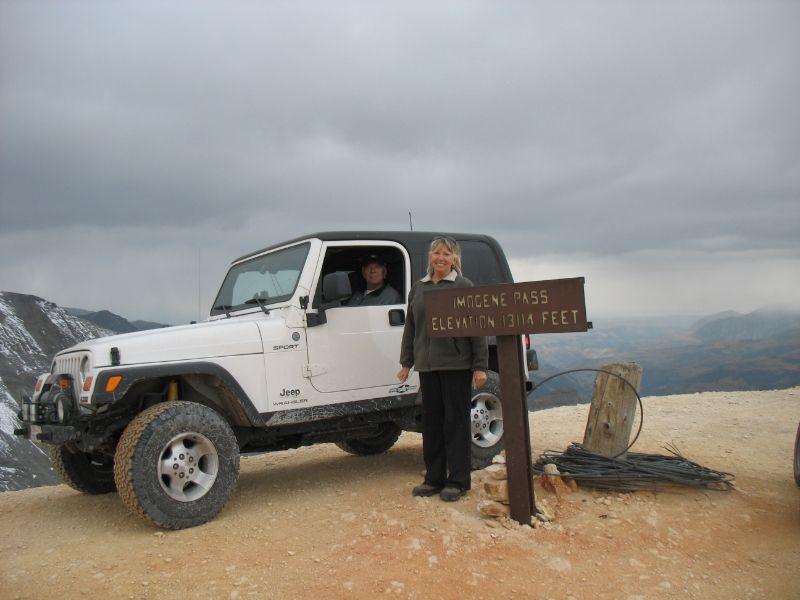 White Rim Trail, Canyonlands Nat'l Park