I have a 50amp/220V outlet in my garage at home. When I plug in at home, I use the adapter shown below. It utilizes only one of the two 220v hot wires. Given my 50amp circuit in the garage works off two 25amp circuit breakers in the house, it is easy to concluded that it provides 25amp service to my PC.
I think you would need 60amp/220v service at the peg to get 110v/30amp service from such an adaptor. But RV parks don't offer that.
If you can't get enough power to run two electric space heaters along with the rest of your PC, I advise to buy a typical 110v 12gauge 25 or 50 foot extension cord and run it from the power peg (20amp) through one of the van doors to supply independant power to your strongest electric heater. Just be sure the door doesn't pinch the cord. You might have to place a tiny 1/2" thick piece of soft pine in the door jamb (low corner opposite the hinges) to maintain a 1/2" gap. The cord should be easily push and/or pulled through the door gasket.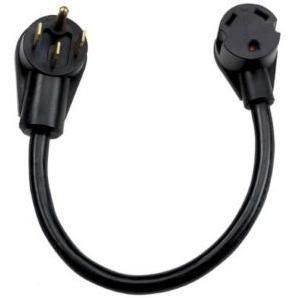 A 25 foot 12 gauge extension cord like this can be purchased at any home improvement center.