1
« Last post by Volkemon on Today at 08:48:12 am »
Luckily, the existing opening 'up and down' is correct, and it is too wide 'side to side'. The instructions call for adding a 2x2 brace, luckily I will not have to cut any framing. I would be VERY hesitant to do that.
The heater mounts into the flange/door assembly via a formed mounting ring. The square outline below on the flange/door mount. Note how it is off to one side, this is the 'extra' room I will have.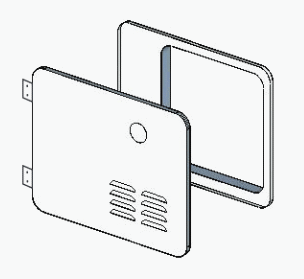 The 'stopper' , if you will, seems to be the
flush mount
Atwood 6 gal heater. All the door kits say they fit a '6 gal Atwood', but evidently the flush mount used in my 2350 was not a popular item. And is different.
Possibility at this point... modify the new flange (remove the new door) to mount the water heater in the existing flange. Then cut the vents and exhaust ring from the new door, and spot weld the panel into the existing door. Do finishwork and paint... *should* work.
Mrs V is a not pleased that the kit does not fit 'as advertised', so plans must be firm and workable before tearout of the existing heater starts.
Many pictures will be taken.
I do wish there was an easier solution.